For everyone wondering what the Big Shaq has in his garage, here's the collection of cars that Shaquille O'Neal drives.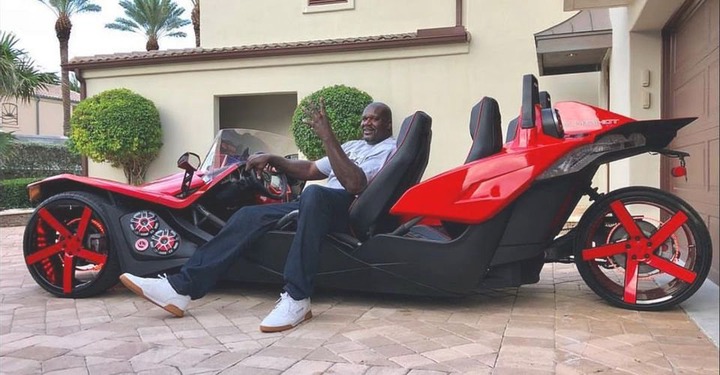 When we talk about the celebrity's car collection, we come across some great football and NBA players. The former basketball MVP Shaquille O'Neal, aka Big Shaq, aka Diesel, aka Manny Shaquiao, aka Shaq Daddy, is highly inclined to show the world his customized cars. During his basketball career, O'Neal amasses a large amount of money. He likes to customize his cars according to his comfort because getting inside a Gallardo with 7ft and 1 inch is impossible. Shaq has proved himself in the NBA many times, he won the MVP award in 1999 and 2000, along with numerous other awards. The car collection of Shaq features uniqueness with every featured car.
For everyone wondering what the Big Shaq has in his garage, here's the collection of cars that Shaquille O'Neal drives.
Jeep Wrangler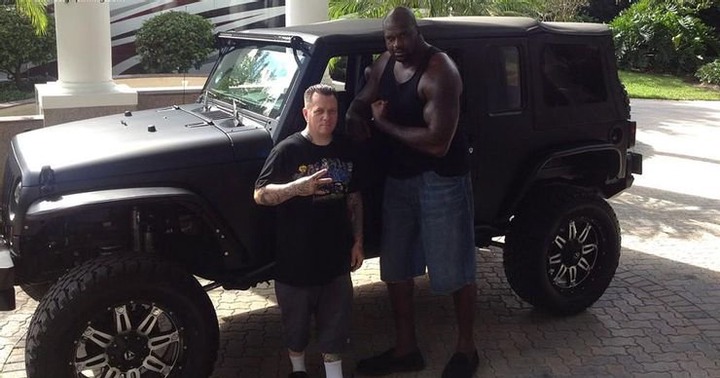 For a tougher condition and off-road exploration, Shaq must have thought of keeping an off-road beast. The Jeep Wrangler comes with a four-wheel drive and spacious interior. The base trim of the Wrangler costs $28,295 for the two-door body style and $31,795 for the four-door (Unlimited) body style. That's much higher than the starting prices of most other compact SUVs but the price is not a problem for Shaq. Under the hood, the Wrangler features 285 horsepower Penstar V6. The V6 comes with a six-speed automatic transmission. It is also available with eight-speed automatic transmission. Though, some cons arrive with the jeep Wrangler as it failed to provide an impressive on-road experience. The fuel efficiency is the least among the compact SUVs available.
Shaquille also a big off-road trucks fan. The Jeep Wrangler has some of the best off-road features available. The Jeep was customized by his friend West Coast Customs. To give Shaq more legroom, West Coast Customs included Wrangler Unlimited chassis, which adds 20.6 inches longer than the standard two-door Wrangler. Also, they joined the front and rear door providing more legroom for the driver.
Vaydor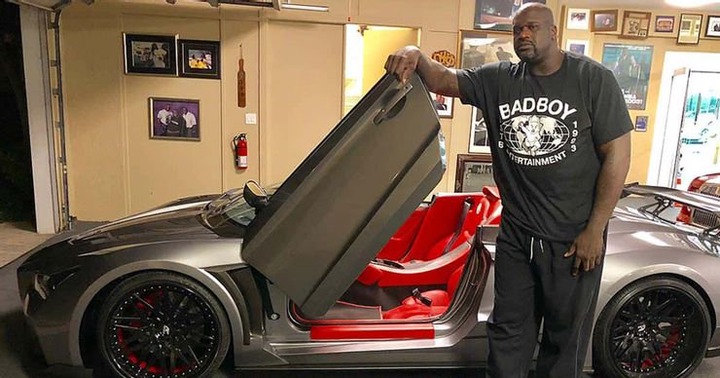 With its first appearance at the 2013 SEMA auto show, it has kept an intimidating picture of itself in everyone's mind. Vaydor is designed by entrepreneur Matt McEntegart. It is a black canvas, allowing for more customization than any mass-production car.
Indeed, it is a fine purchase by Shaq because this Infiniti G35 coupe comes with a Nissan VQ 3.5 Liter V6 engine, which makes it capable to produce 280 hp and 268 lb-ft of torque. Several engines can be installed into the G35 chassis, such as the GM LT4, GM LS3, GM LT1, or Toyota 2JZ. Moreover, it allows a choice between manual and automatic transmissions. This is a car that can be developed in less than two months for less than $40,000.
We all have watched the suicide squad, a superhero movie in which the Joker draws Vaydor. Shaq enjoys playing movie roles. Once in an action-packed film, he drove Vaydor. The car got customized to fit in the 7 Ft 1-inch frame of the Big Shaq. Also, customized air suspension and airbags are installed in it.
Coated GMC Sierra Denali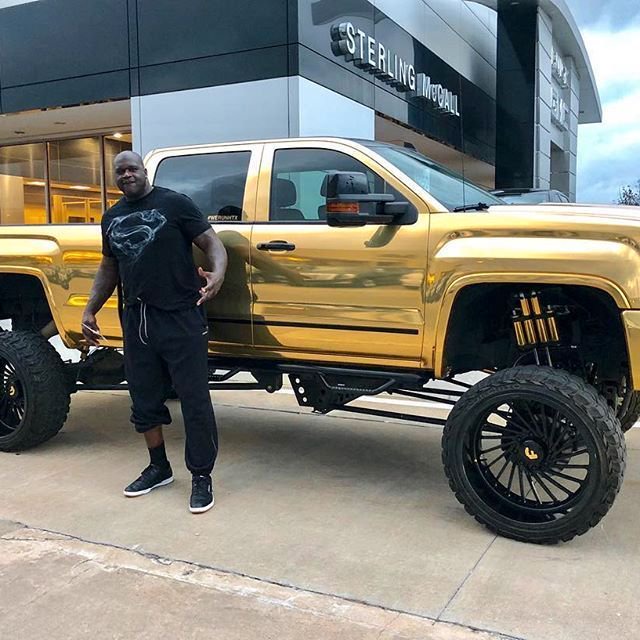 GMC Sierra stands on a mid-level compare to its competitors, Chevrolet Silverado 1500, Ram 1500, and Ford F-150. GMC Sierra gives a tougher and masculine look. It doesn't quite hit the high notes as well as, some competitors but Shaq is not interested in performance, he is a fan of aesthetics. Shaq wanted the car as tall as him; consequently, he installed a suspension system to raise its height. The Gold wrapped Denali looks different from the conventional.
GMC Sierra has a respectable hauling and towing capacity with some cool interior features. Sierra Denali is powered by a 3.0 Liter Turbo Diesel engine with a 10-speed automatic transmission or an available 6.2 Liter V8 engine. The top-of-the-line Sierra Denali starts at $55,200. That's in line with rivals' top-trim prices.
Polaris Slingshot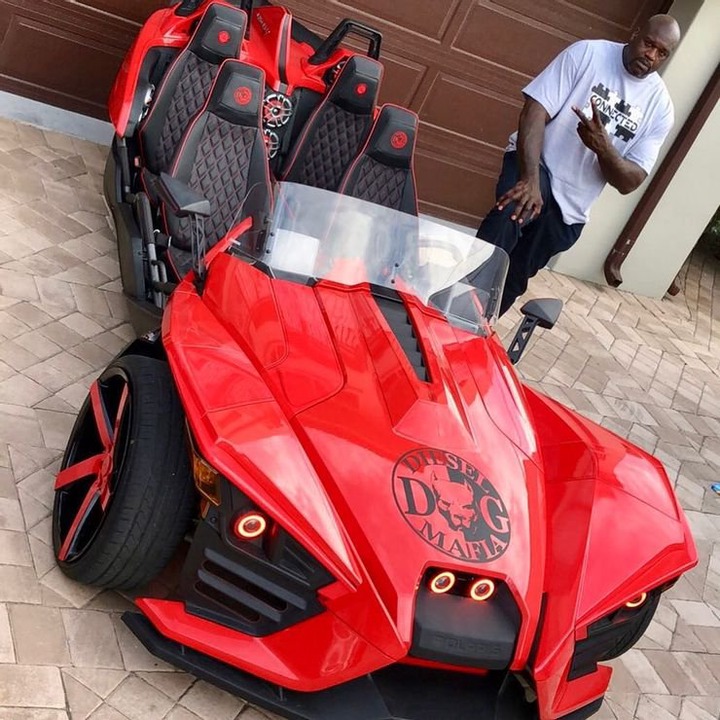 Polaris Slingshot is technically not a car, it is an open-air roadster, or say a three-wheeled motorcycle, which is manufactured by Polaris industries. Polaris Slingshot is powered by a 2.4-liter inline four-cylinder GM Ecotec engine, which produces 173 bhp at 6200 rpm and 166 lb-ft of torque at 4700 rpm. The Motorcycle weighs less than 800 kg and can cover 100 KPH in under 5 seconds. The slingshot has a double-wishbone suspension with an anti-roll bar. It is equipped with a five-speed automatic transmission. There are no doors, roofs and the whole interior is waterproof. Though, there is an option to install a Slingshade, which is made up of fiberglass with inset polycarbonate windows. Well, technically it is not a roof and does not provide additional safety protection. It does, as expected, provide adequate weather and wind safety. Slingshot starts at $26,499 for the SL AutoDrive. The R Manual begins at $30,999, and the R AutoDrive begins at $32,699.
The Slingshot was extended so that the driver can get more legroom; also, he added two additional seating arrangements. The customized car is a unique piece to enjoy music because of its 18-speaker sound system and leather seats.
The Shaq's garage also houses some other best cars of the era. Customized Dodge Challenger, Lamborghini Gallardo, sheriff's Dodge SRT charger Hellcat, RAM 1500, Sprinter Van of America, Cadillac Escalade, Chevrolet G1500, Rolls-Royce Phantom, Ferrari F355, and Mercedes S550. Shaquille O'Neal is one of the best players of all time and his net worth is estimated at 400 million dollars. There are some reports that states that Shaquille O'Neal spends 23,000 dollars per month on gas alone. He still has many more in his car collection, and we can see some incredible customized cars in his garage in the future.a