It's hard to believe Jaden Smith isn't a kid anymore—he's officially an adult. Part of the new generation of Hollywood's elite, the son of Will Smith and Jada Pinkett Smith has grown up in the limelight thanks to his famous parents.
In the last few years alone, Jaden has been making a name for himself separate from his famous Fresh Prince of Bel-Air father, spanning from philosophical Twitter posts to the release of his rap album, SYRE, in 2017. His hip-hop prowess is undeniable, making Jaden a genuine contender in the rap community amongst his peers.
On top of all that, he's also bounced back from his earlier acting roles with more grown-up ones, such as the Netflix series The Get Down and Ezra Koenig-produced animation series Neo Yokio.
Throughout his dominance in the movie and film sphere, Jaden has also been in the public eye with his equally famous friends, some of them also part of the next batch of celebrity A-Listers.
As he recently explained to Dazed, this came from having difficulty making friends with regular, non-celebrities growing up. "People treat me like I'm not a normal human so much, that you start to believe [it], like, 'Am I not a normal human?'"
Naturally, he hasn't had that problem with his Hollywood peers, so he's usually seen frolicking with them, making for fun celebrity sightings. Curious who exactly Jaden hangs out with and who he stays away from? Read on to stay in the know!
20 Cara Delevigne, Who Only Got Along With Him While Cameras Were Rolling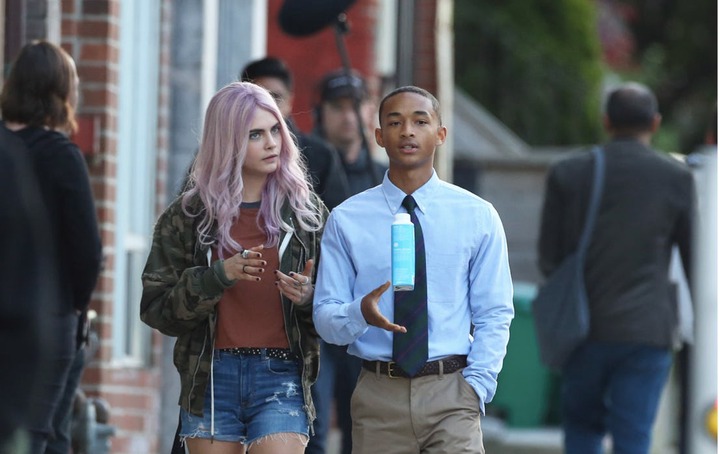 Jaden and Cara Delevingne are set to play the leads in upcoming tearjerker movie, Life in a Year, where they're dating on-screen and madly in love. It turns out, offscreen they aren't spending too much time together. According to Sun, a close friend of Cara's admitted that Cara "found Jaden's know-it-all attitude increasingly irritating," meaning she may keep her distance from the 20-year-old off-camera. "Cara can be feisty too, but she didn't want to complain — Jaden's dad, Will, is a producer on the film." As they were filming the movie in Toronto, Jaden ended his stay with a Twitter rant against the Four Seasons Hotel they were staying at, which may have just been a bit too out there for Cara, too.
19 Justin Bieber, His Party Pal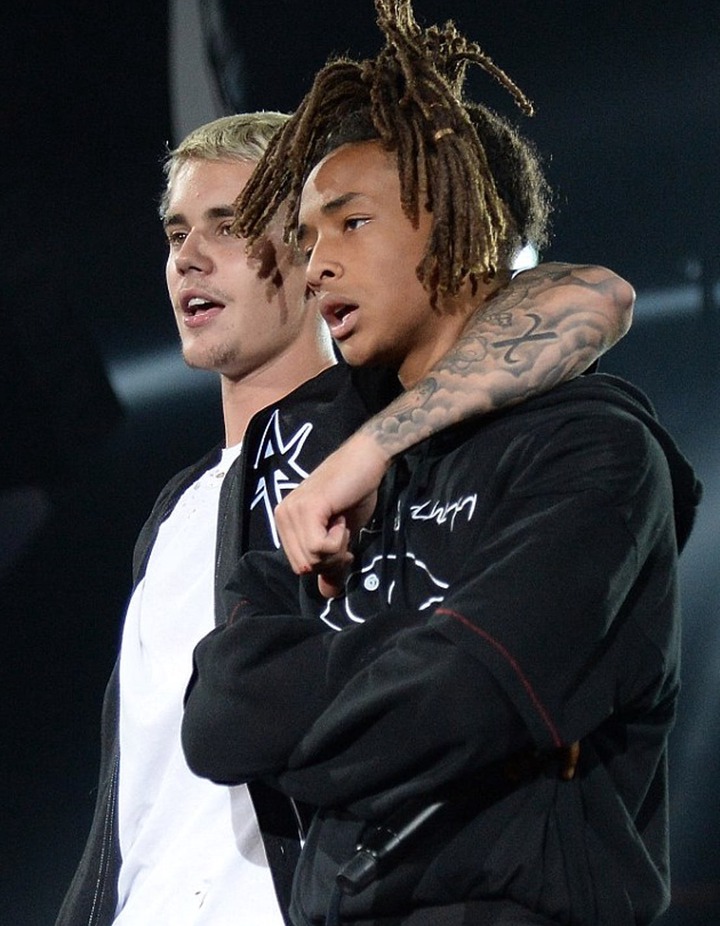 Close pals Justin Bieber and Jaden Smith can usually be found joined at the hip at Hollywood parties.
It's not rare to see Jaden posting photos of the duo on his social media saying he'd do anything for his close friend.
Justin usually returns the favor, such as the time back in 2017 when he shared a photo of Jaden walking in a very fashion-forward outfit with the caption, "Can I be as cool as you are please?" Funny that Justin Bieber would be the one sharing such a photo, as most of his fans want to be as cool as him!
18 Luka Sabbat, Kourtney Kardashian's Ex, Who's Started Beef With Jaden Online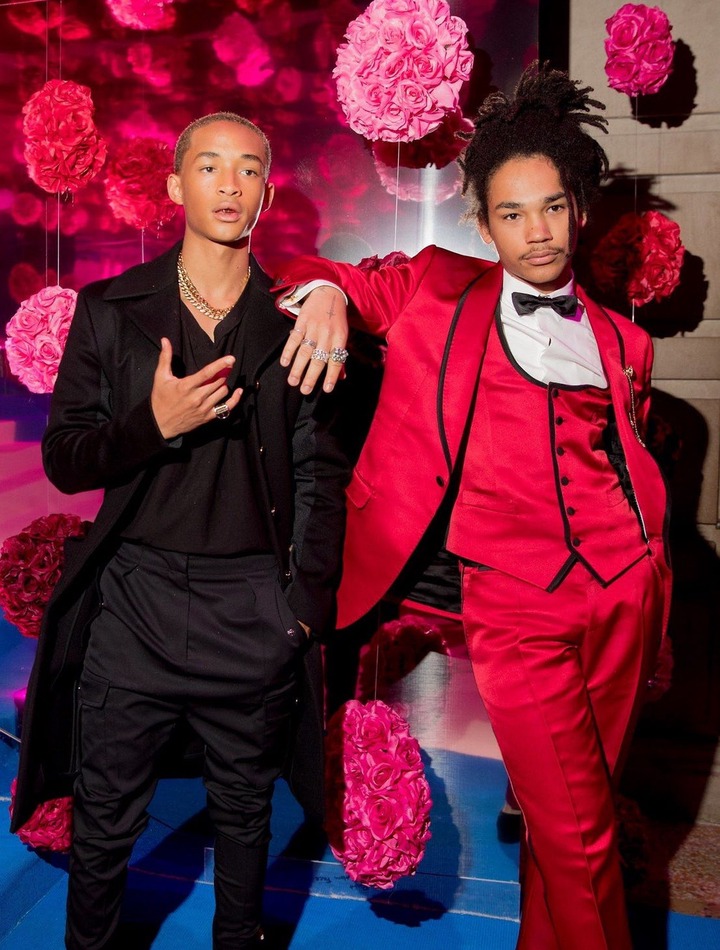 Although Jaden is close with the majority of the Kardashian-Jenner clan, he definitely has some interesting feelings about Kourtney's new flame, model Luka Sabbat. According to MTO News, what sparked the duo to stay away from one another was an incident wherein Luka read an article where Jaden was quoted as suggesting that Luka and his friends "hang out with people that are famous . . . and want to be cool." Luka immediately took to social media to say that just because Jaden doesn't want to be famous, he worked really hard to get to where he is.
17 Kylie Jenner, Who Has Been Close To Jaden For Years And Even Dated Him
M
It's no surprise that Jaden is close to the Kardashian-Jenners. Seen with them on a pretty frequent basis, he spends his most time with the two Jenner sisters.
Closest to Kylie, they've called each other best friends for years, and even dated for a while when they were younger.
As reported by E!, Kylie had this to tweet about dear pal for his 15th birthday; "Although we can't remember exactly when we met, I couldn't be more grateful that we did. You understand me like not many do & you always know the right time to make me laugh. Happy birthday to my best friend."
16 Jaden Attended Kanye's Wedding & Now Doesn't See Him Anymore
Another rap icon to be listed along with Drake as someone Jaden Smith doesn't spend time with anymore is none other than Kanye West. It may come as a surprise as Jaden is close with the rest of the Kardashian-Jenner clan, and was even at Kim and Kanye's wedding in a white Batman costume! He once told Vanity Fair his outfit choice at the wedding was because he "felt as though I needed to protect everyone there and needed to have the proper gear to do so." Clearly not protecting Kanye anymore, it certainly seems as the duo has drifted apart throughout the years!
15 Tyler The Creator, Who Jaden Recently Declared Is His Best Friend
The one celebrity Jaden has been spending the most time lately has been Tyler, The Creator. Spotted together at various events, Tyler was even recently at Camp Flog Gnaw Carnival watching Jaden's performance, where Jaden grabbed the mic and declared his adoration for the boisterous rapper.
As per E!, he screamed, "I just want to say Tyler, the Creator is the best friend in the world and I love him so much!"
There's even been speculation that the duo is dating, with Jaden admitting to it on Apple Music's Beats 1 Radio. However, Tyler has still denied the rumors, so as of right now the two are still simply very close friends!
14 Donald Glover, Who, Along With Drake And Kanye, Was Named As Someone Jaden Doesn't See Anymore
Last on Jaden's list of rap legends who stay away from him is none other than Donald Glover. In an interview with Complex, he noted that as soon as he surpassed 100 million streams on Spotify, he received the cold shoulder from a lot of his industry peers. "It's more like, 'You can't hang out with us anymore. We didn't know you were making an album this whole time. We thought you were just Little Homie giving us free water… You're not really cool with us anymore," Jaden mused. Perhaps it's simply an adjustment period, and he can soon hang out with all three hip-hop icons once more as their equal!
13 Selena Gomez, Who He's Remained Close With Even After Her Split With Justin Bieber
It's great that exes Justin Bieber and Selena Gomez didn't make their mutual friend Jaden pick sides after their breakup, as he's remained close to both!
Seen on numerous occasions strolling around or grabbing a bite, fans were quick to judge the duo spending time together, leading to speculation that Selena was hoping to get back together with Justin and asking Jaden for advice.
Turns out, the duo is just friendly with one another whenever they cross paths, as they're clearly a part of the same social circle. According to Just Jared, the above photo was captured as the duo sat together during the Louis Vuitton Fashion Week Womenswear show back in 2016.
12 Shia LaBeouf, Who Was The Subject Of One Of Jaden's Tweets Back In 2015
Jaden Smith has been known for his outlandish and thought-provoking tweets throughout the years, constantly causing speculation on whether or not he's kidding. One tweet that left fans shaking their heads was back in 2015 when he questioned why Shia LaBeouf was invited to the Grammys—when he wasn't. According to Latin Post, the tweet read, "Shia LaBeouf Was At The Grammys Man Really I Couldn't Take The Place Of One Seat Filler." While some fans immediately took to the social media platform to defend the actor, others defended Jaden, explaining that it was all simply a joke.
11 Jordyn Woods, Kylie Jenner's BFF Who Still Hangs Out With Jaden, To This Day
Another one of Kylie Jenner's friends Jaden is seen hanging out with on the regular is her BFF, Jordyn Woods.
The fashionista has grown up with both Jaden and Kylie, so it makes sense they're all very close to this day.
In an interview with WWD, she even went as far as to call Jaden "family." "[They're] a couple of my friends I've known since I was an infant and others I met as a teenager, but we're more of a family now. I don't really consider them 'friends' anymore because they're like family." It turns out she's close with the entire Smith family, too, as she's also posted a throwback shot of Jaden's dad Will on her IG for his birthday in the past, as well!
10 Tom Rothman, Sony Exec, Who Threw Shade At Jaden In An Email Chain
Jaden definitely hasn't been spending any time bumping into Tom Rothman, a high-up Sony Pictures exec, who came under fire when an email he sent leaked to the public. Among remarks made about other celebrities, Tom forwarded some existential tweets made by Jaden and Willow to a colleague, scratching his head and poking fun at the Smith kids. According to Variety, when the email leaked, it was Jaden's dad Will who jumped up to handle the situation with grace. "Everybody disses my kids," he said with a chuckle. "To me, that's just part of the business. And somebody's email is private, you know? So I would never hold anybody responsible for something they said in a private email. I shouldn't even know about it."
9 Sasha Lane, Who He Sits Front Row With During Fashion Shows
American Honey star Sasha Lane can usually be seen rubbing elbows with Jaden front row during fashion shows, as the duo turn heads with their fashion prowess on the regular.
The best is when the duo matches, such as the time they went to see Louis Vuitton's Fall 2017 collection—both donning the same high ponytails, as per Vogue.
As Jaden himself is very interested in frocks and is always looking fashion-forward himself, this duo is a force to be reckoned with! It's not the first time he's rocked a pony either, as the look has since become one of his signature styles.
8 Amandla Stenberg, Who Jaden Decided To Distance Himself From Because Of Kylie Jenner
Poor Jaden found himself in the middle of a feud between Kylie Jenner and Amandla Stenberg back in 2015, when the two girls were engaging back in forth in an IG feud, which left Jaden stuck in the fray. A source told Hollywood Life, "He's a really silly guy and he thought Kylie and Amandla's little tiff was hilarious at first. But people are making such a huge deal out of it now and Amandla and Kylie don't think it's funny at all. Amandla wants him to do or say something to support her, meanwhile, Kylie is blowing up his phone telling him to have Amandla back off. He feels totally stuck in the middle." Jaden did what he deemed best and decided to stay quiet!
7 Kendall Jenner, Who Has Kept Their Friendship On Display As They Battled Rumors That They've Dated
Growing up with the Jenners, Jaden has remained close to Kendall Jenner throughout the years, as the two are frequently spotted out in public together, or with a group of their A-List friends, too. According to Metro,
The duo recently got together on an episode of Kendall's ZAZA WORLD on Apple Music's Beats 1 to discuss their friendship throughout the years.
In particular, they shared a story which involves Jaden surprising Kendall when she was younger for her own personal screening of the Twilight flicks—since she missed the premiere. "So, we screened Breaking Dawn 2early at my parents' house. And we invited you, and Ky, and Jordan to come over. We set up a red carpet. A whole red carpet just for you guys." Adorable!
6 His Family, Whose Home He Moved Out Of At Fifteen
Although Jaden is definitely still on good terms with his family, he's not as close to them as he once was when he was younger, probably wanting to create his own path and success in life. In fact, according to Page Six, he actually moved out young—when he was only 15 years old! His mom Jada shared in the latest episode of her show Red Table Talk that Jaden telling her he wanted to move out was the most heartbreaking moment of her life. "[He said] 'Mom, I have to leave here to live my life.' I remember thinking to myself, as devastated as I was, I was like, 'He's right. The time is now. He's 15. It's time for him to leave the house.'"
5 Odessa Adlon, Who's Been Seen Hanging Out With Jaden More And More Since His Break Up With Sarah Synder
Actress Odessa Adlon has been seen spending more and more time with Jaden after his breakup with Sarah Snyder, even inviting him as her prom date back in May, according to Vogue.
Since both Jaden and his sister, Willow, usually reject specific labels, nobody is really certain if Jaden and Odessa are dating, or just very close friends!
One thing is for certain, these two have been spending a good chunk of time together, with Jaden even adorably carrying Odessa around Calabasas after a breakfast date they had together, as reported by Daily Mail.
4 Drake, Whom He Now Thinks Views Him As Competition
There was a time that Drake definitely welcomed Jaden into his circle, becoming close with the young star and taking him under his wing. According to Billboard, he once partied and hung out with bigger rap heavyweights, but since releasing his album, SYRE, which peaked on the Billboard 200 chart at number 24, things have changed. Jaden recently confessed he doesn't spend time with Drake, unfortunately, citing himself as a threat to the hip-hop icon. "[My relationship with Drake] really changed. I always felt like Little Homie before and that allowed me in all of their circles. But now that I'm on the charts next to them, I'm not really Little Homie anymore."
3 August Alsina, Who's Close With The Entire Smith Family
R&B star August Alsina has been close to the entire Smith family after meeting Will and Jada at a Jaden Smith concert and immediately hitting it off.
According to Rolling Out, August had a history of family and health issues, and along with being overworked, asked the Smiths for help.
"He asked me that day, 'Man, I could really use some help dealing with life,' " Jada said on her show. "August and I and my mother and the family as a whole have been on this journey with August towards his healing." Besides that, he's been regularly seen spending time with Jaden, probably since he's a positive influence on August's life!
2 Harry Hudson, Who He Teams Up With For Musical Projects
Singer-songwriter and long-term close pal of Kylie Jenner, Henry Hudson is also quite close to Jaden Smith, whom he collaborates with for his music endeavors regularly. Most recently, the duo has teamed up for their R&B electro-pop single, "Just Slide," which was released last month.
It turns out, the duo grew up together, and as reported by Billboard, they didn't like each other when they were younger.
In an interview with Rolling Stone, Harry has been vocal on the positive influence Jaden has been in his life, such as inviting him to move to New York City with him after his cancer went into remission. "It changed my whole life," he said of the year he spent living in NYC with Smith.
1 Sarah Snyder, Who He Dated But They Simply Grew Apart
Unlike Kylie Jenner and Jaden who remained friends after their breakup, Sarah Snyder and the rapper decided they simply grew apart too much, which was the main cause of their breakup. The pair dated for over two years, until they finally decided to call it quits. A source told Teen Vogue, "They had been on the rocks for a while … and stopped having shared interests. They also noted that the relationship ended about two months ago and that they had been 'growing apart.'" While the duo was certainly adorable together, it's a good thing the two were mature enough to recognize when they should end things before they got too messy!