Justin Bieber is sticking with his dreadlocks despite his fans' reaction, he revealed in a new, shirtless selfie that showed off all of his chest tattoos.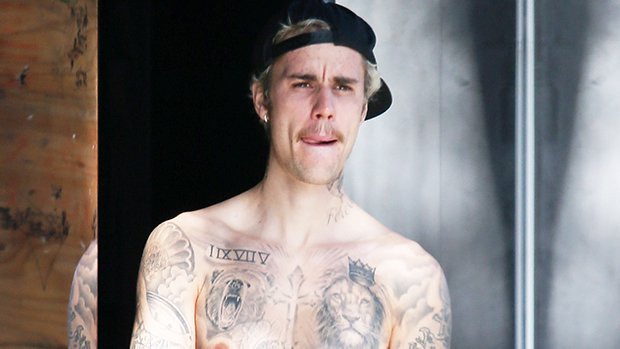 Justin Bieber is giving the people what they want. The "Peaches" singer, 27, surprised fans on Instagram with a new shirtless selfie that showed off his many, many chest tattoos. The April 28 photo was shot in black and white, and Justin's wearing nothing but a strand of pearls and a bandana around his head.
Also prominent in Justin's new photo? Those dreadlocks. Justin debuted the controversial new hairstyle days earlier while enjoying a vacation to the Caribbean — big "college coed getting her hair braided during spring break" vibes. This isn't the first time that Justin has rocked dreads (2016 was a wild year), but like the first time, fans were questioning his decision-making skills.
"What happened to your hair darling?" one fan asked in the comments. The rest of the comments section was filled with similar messages from unamused (or just confused) Instagram followers: "We love you, but what is that????" "No." "WTF." "Oh no." "WHAT IS THIS." "Ummmm…." "Justin, what is this LMAOOO."