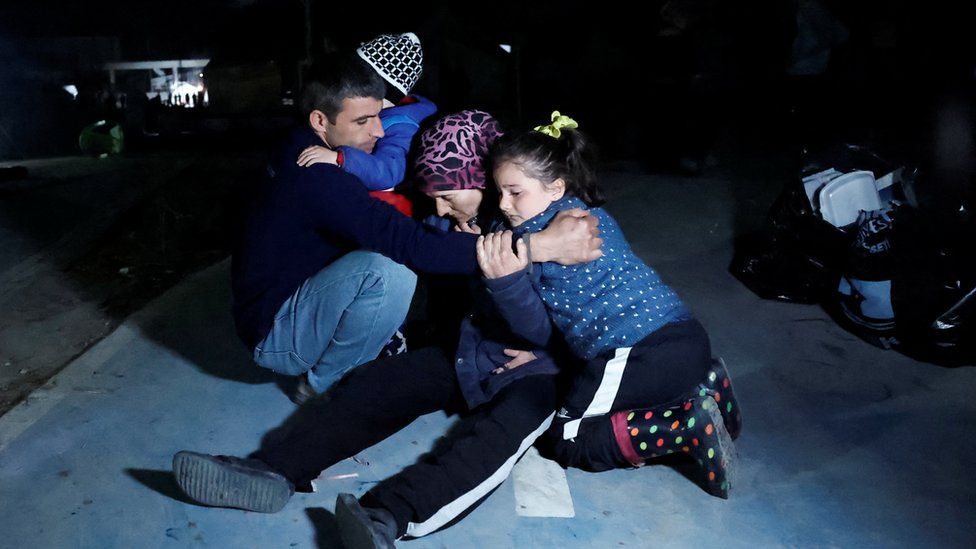 A 6.4 magnitude earthquake has struck southern Turkey, weeks after a deadly quake devastated the region.
Turkey's disaster and emergency agency Afad said the tremor occurred at 20.04 local time (17.04 GMT).
Witnesses told the Reuters news agency there had been further damage to buildings in Antakya.
A 7.8-magnitude struck the region on 6 February, killing more than 44,000 people in Turkey and Syria.
The mayor of Hatay, in southern Turkey, has said people are trapped under the rubble.
The Turkish vice president said at least eight people were injured in the earthquake.
Turkish authorities have recorded more than 6,000 aftershocks since that earthquake hit, but the BBC team in the region said today's tremor felt much stronger than previous ones.
Witnesses said it was also felt in Syria, Egypt and Lebanon.
It is currently unclear how much damage it has caused or if there are any casualties.
Muna Al Omar, a local resident, told Reuters she was in a tent in a park in central Antakya when the earthquake hit.
"I thought the earth was going to split open under my feet," she said, crying as she held her seven-year-old son.
"Is there going to be another aftershock?" she asked.
An AFP journalist reported on scenes of panic in Antakya – which was already devastated by the previous earthquake – with the latest tremors raising clouds of dust in the city.
The walls of badly damaged buildings also crumbled, AFP reports, with several apparently injured people calling for help.
Ali Mazlum said he was looking for the bodies of family members from the previous earthquake when the latest one hit.
"You don't know what to do… we grabbed each other and right in front of us, the walls started to fall. It felt like the earth was opening up to swallow us up," he said.
Antakya, the capital of Turkey's Hatay Province, was one of the places hit most severely by the earthquake on 6 February.
In a tweet, Afad urged people to stay away from coastlines as a precaution against the risk of rising sea levels, although the warning was later removed.
In Syria, the civil defence group White Helmets said several people were injured by falling buildings.