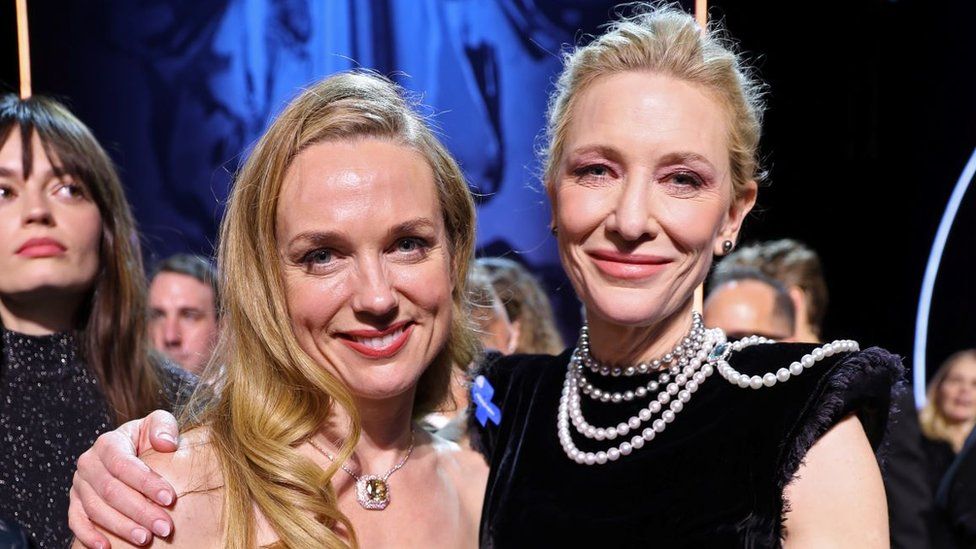 The Banshees of Inisherin and Elvis also enjoyed success with four wins apiece at the event, which was held at London's Royal Festival Hall for the first time.
But while you may be up to date with who won what, here are eight of the snippets you might have missed from both the ceremony and backstage.
1. Richard E Grant is the next Batman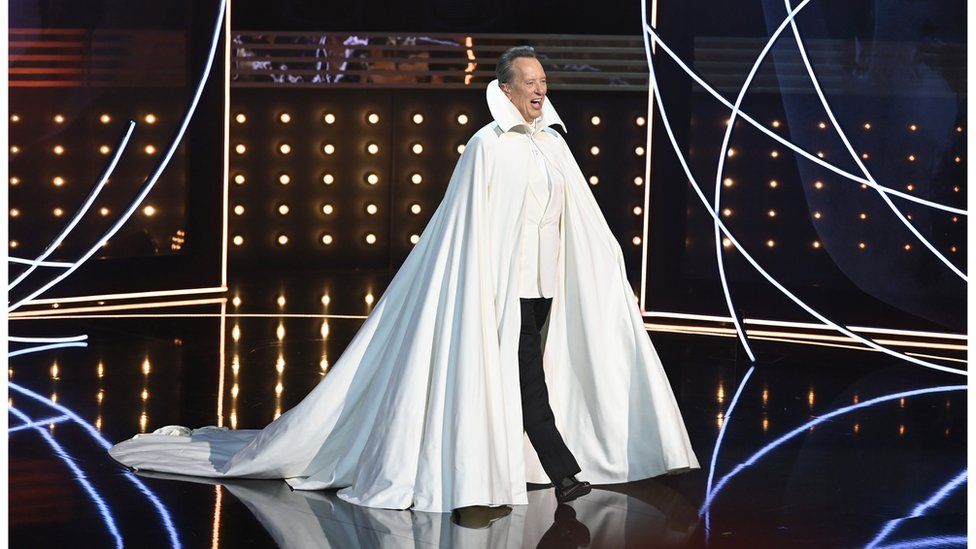 Well, not exactly. But he did arrive at the venue on the river Thames in the Batmobile, on the advice of Hollywood star Steve Martin no less. However, Grant chose to ignore one other piece of advice from the veteran star – don't wear white.
In fact, Grant wore white – and then some. Not content with a white tux jacket, he added a dramatic white Dracula-style floor-length cape to make his grand entrance. Sadly, it was discarded way too quickly for our liking but it was fun while it lasted.
Ahead of the event, Grant had promised not to roast any fellow actors and he stayed true to his word although he did reference last year's infamous Oscars ceremony.
"Nobody on my watch gets slapped tonight – except on the back."
2. Where was Alison Hammond?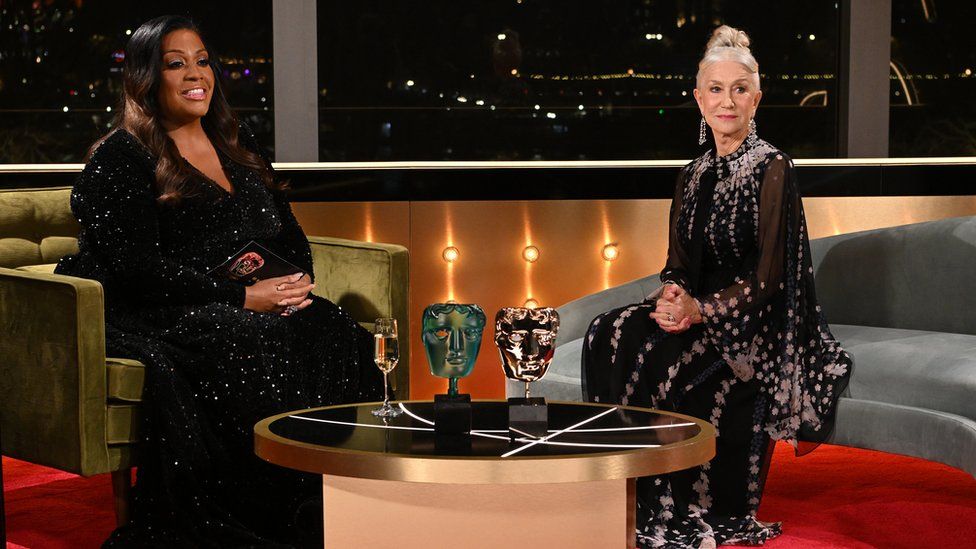 Some viewers on social media thought they would see more of the star alongside Grant – and as this year's co-hosts they did make a cute couple when they appeared together occasionally throughout the evening.
But the plan was always for the ITV presenter to host a behind-the scenes slot on some posh sofas off-stage (which looked like a slightly more glamorous version of the This Morning set).
Unfortunately, no matter how much she tried, Alison couldn't persuade Dame Helen Mirren to party with her later. "I have to get up at six o'clock in the morning. I have to fly to Berlin," the actress explained. No rest for the wicked.
3. Ariana DeBose gave a sisterly shout-out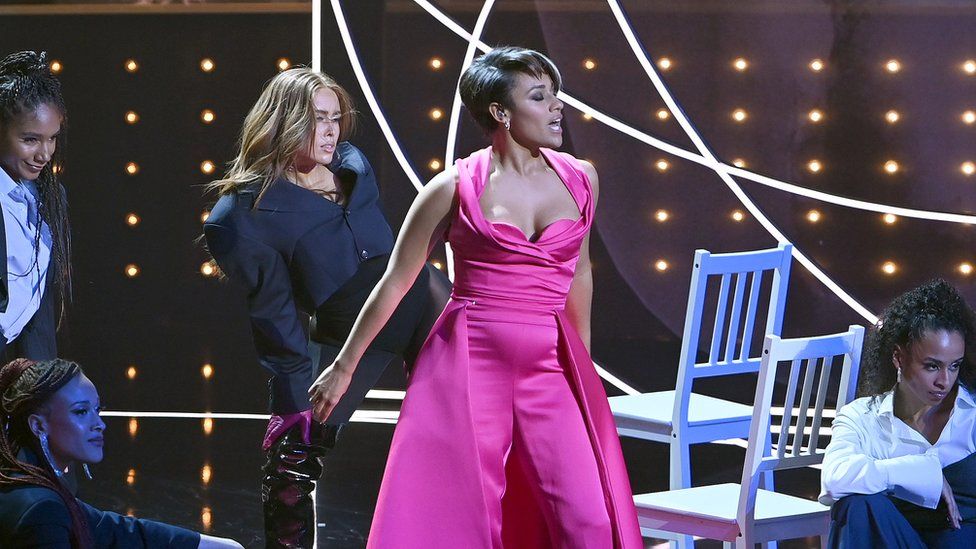 Last year's best supporting actress winner Ariana DeBose (for West Side Story) performed a medley including Sisters Are Doin' It For Themselves with a rap section naming several of the evening's female nominees.
Cringe or cool? You decide. Kerry Condon appeared slightly baffled, Danielle Deadwyler looked very surprised, while Emma Thompson and Jamie Lee Curtis seemed to be really getting into it.
4. Kerry Condon couldn't wait to get back to her seat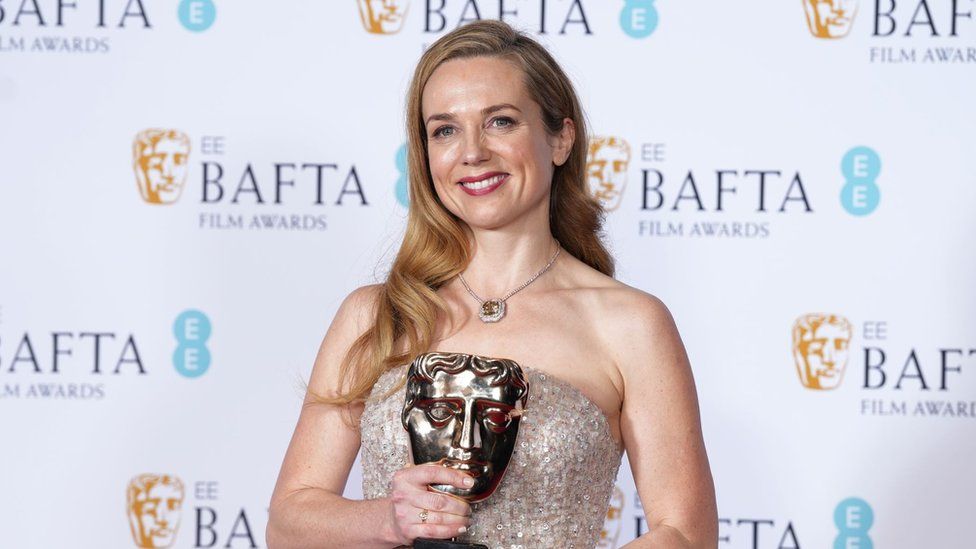 This year's best supporting actress Kerry Condon (for Banshees of Inisherin) said backstage that she had a "blackout, weird moment" when she realised she had won (there was an unfortunate incident when Troy Kotsur's interpreter accidentally named Carey Mulligan as the winner rather than Condon before it was quickly corrected).
As she was being interviewed by journalists, Condon caught sight of a live TV feed in the corner of the press room and saw Banshees writer and director Martin McDonagh step up to the stage to accept the award for best original screenplay. "Oh, go away! I'm missing it. Hurry up! Should we listen to it for a minute?" Be our guest.
Thankfully, McDonagh paid tribute to her (otherwise, it might have been a tad awkward).
He described her as "the amazing Kerry Condon, who I first worked with on a play at the RSC 21 years ago. And she was amazing in that as she is in this – although more than 12 people got to see this!"
5. Barry Keoghan picked the wrong colour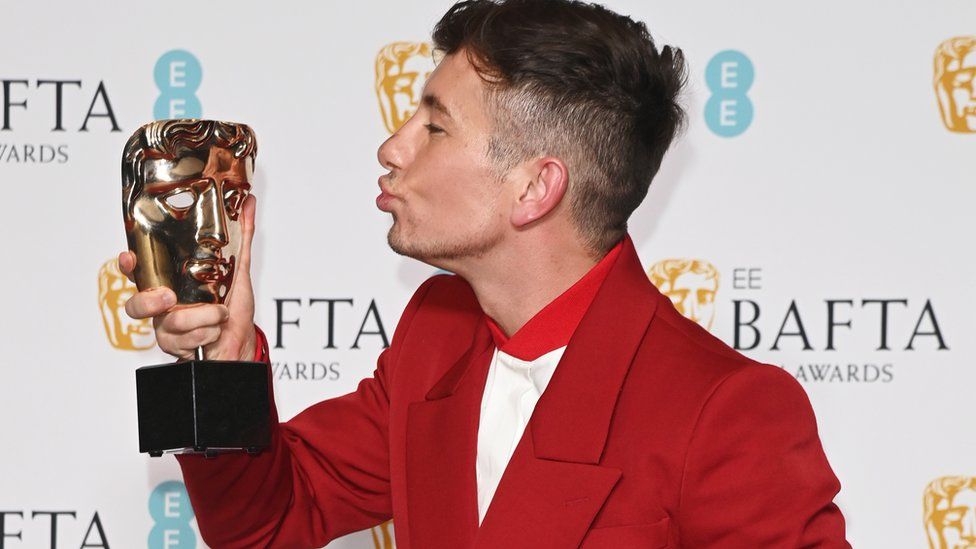 Condon's co-star, Barry Keoghan, was equally delighted with his best supporting actor win.
"It encourages the arts at home, we are an island of storytelling. It helps the industry massively at home. I mean, 14 nominations for the Oscars are Irish… and I'm wearing red. Should have worn green!"
He plans to put his Bafta above his late mother's picture – although he nearly left it in the press room and had to run back for it.
6. Pinocchio has run away again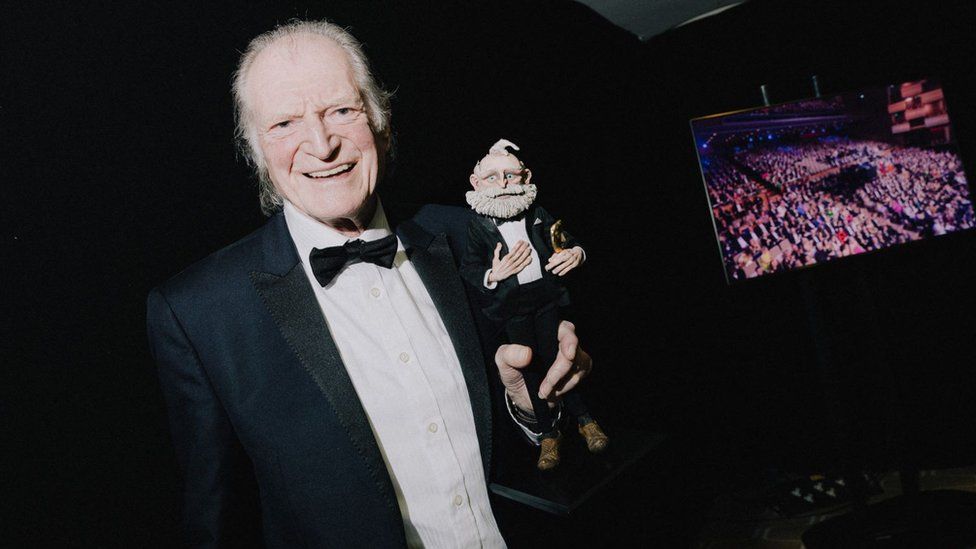 Guillermo del Toro picked up the best animation prize for his dark adaptation of the classic children's tale Pinocchio.
"Is Pinocchio with you?" someone asks backstage. "Yes, but he's getting drunk somewhere!"
While the famous puppet may have gone AWOL, David Bradley – who voices Geppetto – carried a puppet of his character with him. A unique plus one.
And he's even carrying his own little Bafta!
7. Austin Butler gives a nod to the Irish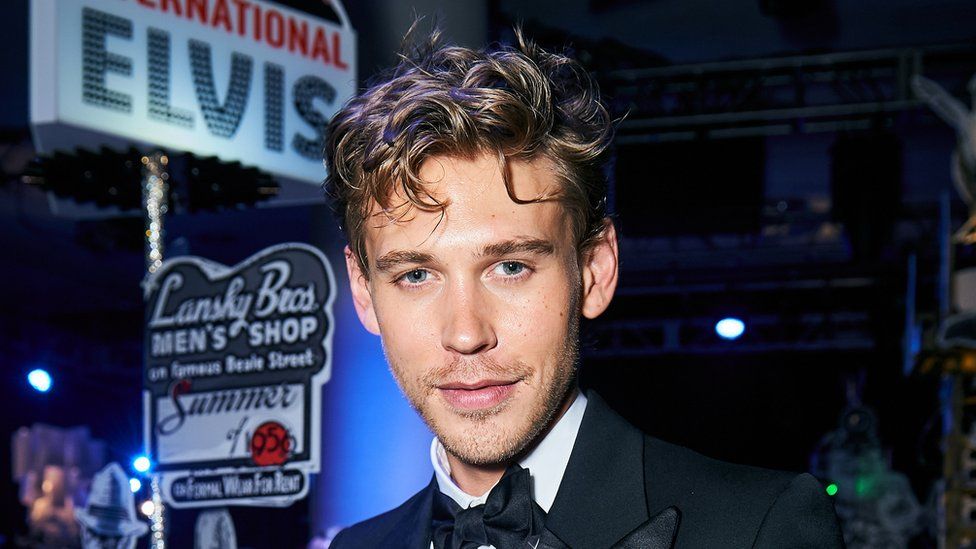 The Elvis star winning best actor was something of an upset, with many expecting Colin Farrell to pick up his first Bafta for the Banshees of Inisherin.
But he got back in Ireland's good books by revealing that "someone told me the other day they thought I was Irish". (Although he's still sounding very like Elvis to us).
"Is Butler an Irish surname?" (Sorry, we think it's Norman French).
On learning that Elvis may (or may not) have had some Irish connections, he was asked if he had felt any Irish connection while filming. "Yeah, it was all I thought about," he deadpanned.
8. Navalny filmmakers vow to keep name in spotlight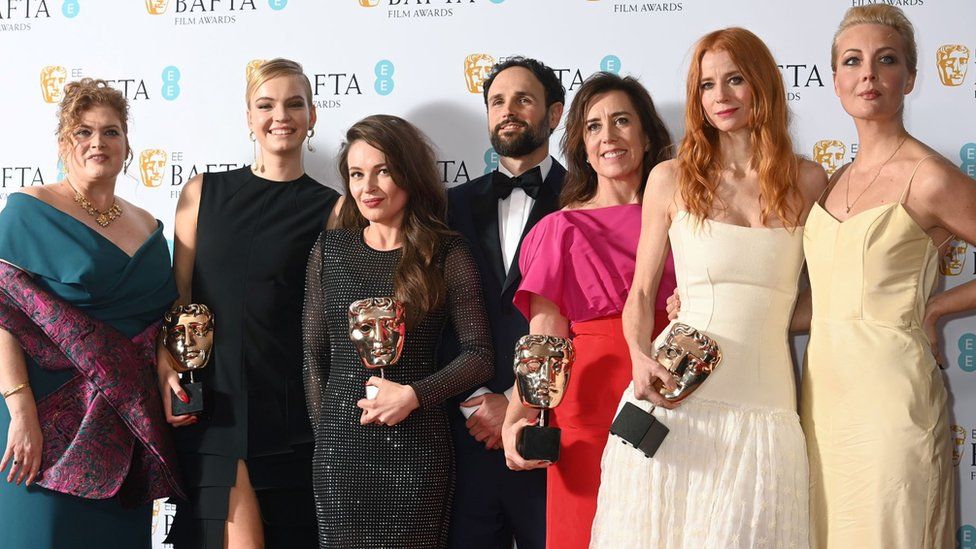 Navalny – a film about the poisoning of Kremlin critic Alexei Navalny – won best documentary. The creators lamented his absence and that of investigative journalist Christo Grozev, who could not be at the ceremony due to "a public security risk".
Activist and journalist Maria Pevchikh said: "The message to the Kremlin is to free Navalny and all political prisoners immediately and stop the war (in Ukraine) immediately.
"Before Navalny went to prison, I promised him that I would spend the time while he was in prison climbing on the highest mountain and shouting and screaming his name and making sure people don't forget what he has done for my country. I believe that tonight's stage has been a pretty high mountain."